By Rachael Stickland, Co-chair, Parent Coalition for Student Privacy
Until 2013, I had never heard of SXSWedu — the nerdy fusion of education and technology that descends on the city of Austin, TX every spring just before the real SXSW festival begins. That year, vulture philanthropist Bill Gates took SXSWedu by storm when he launched inBloom, yet another of his efforts to disrupt the public education system. If you've never heard of inBloom, back in 2012 the Bill & Melinda Gates Foundation invested over $125 million to create a private corporation with a technology platform designed to slurp up student data, store it in the cloud, to facilitate the ability of ed tech companies to use the data to develop products and services to sell back to schools.
inBloom was on my mind in 2013 because my children's school district in Colorado, along with eight other states and districts, agreed to pilot the project using our students as guinea pigs without ever notifying or obtaining consent from parents. Reading everything I could about it at the time, I found tweets and articles coming out of SXSWedu about inBloom parties and coding competitions, and saw photos of Bill Gates taking the stage to make the case for his big data idea.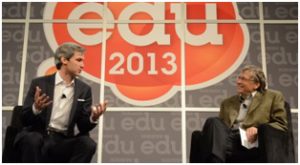 Bill Gates appearing with inBloom CEO Iwan Streichenberger on the SXSWedu 2013 stage. Credit Amy E. Price/inbloom, via Pr Newswire
But while ed tech companies were celebrating in Austin in March 2013, parents across the country became alerted and increasingly worried about how their children's data was being captured and re-disclosed by inBloom.  They ignited a firestorm, and in a little more than a year after Gates and his plans took center stage at SXSWedu, the corporation was history.
Important questions arose from the ashes: How can our current privacy laws allow this to happen? Why aren't our schools, and the companies they contract with, held to higher standards to protect student privacy?
With funding provided by the tech industry and the Gates Foundation, think tanks and organizations jumped in to try to control the damage by producing student privacy websites,  writing white papers,  issuing survey results, and holding various forums and meetings on the subject. In addition, these organizations, including some of the same individuals directly responsible for the inBloom fiasco, returned for the next three years to the SXSWedu stage to dissect the inBloom carcass, to try to determine what went wrong and recoup, without ever inviting any of the many parents and advocates who organized against inBloom to explain their concerns.
After the inBloom collapse, I along with some of the other parents and advocates alerted to the perilous state of student privacy created a new national organization called the Parent Coalition for Student Privacy.  In the last three years alone, over seventy new student privacy laws have been passed in thirty-six states to try to close the numerous loopholes in federal law.
We have also been busy developing privacy principles, testifying before Congress, and bringing attention to the need for  stronger protections for student data.  We are about to release a Parent Toolkit for Student Privacy, in collaboration with the Campaign for Commercial-Free Childhood.  I co-chair this organization, and this year, due to a generous donation from one of our coalition members, I was able to fly from Denver to Austin and participate in SXSWedu 2017, if only as a spectator. Over the course of three and a half days, I attended every session physically possible on the topics of data, privacy and personalized learning. While expecting to feel like a fish out of water, I had no idea just how punishing the experience would be.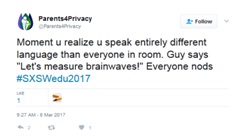 I've become accustomed to having some unpopular views when it comes to student privacy. Having attended school board and PTA meetings, testified at numerous bill hearings, and sat on a few committees and panels all dealing with the issue, my uncompromising positions often labels me as most radical person in the room. I'm okay with that. But never in my life have I felt so disenfranchised as I did at SXSWedu.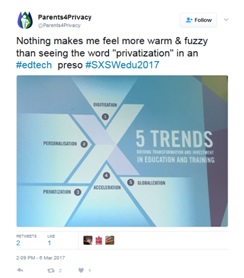 Surrounded by thousands of latte-sipping edupreneurs, technocrats, and snake-oil salesmen, my nerve endings were bombarded by words like "disrupt," "dismantle," "data," "innovate," "online," "personalized," "blended," and "dollars" more times than I could count. I watched from the outside as those within this ideological echo-chamber pitched recycled ideas, swapped snazzy looking business cards, and patted each other on the back. They seemed eager to reinforce each other's convictions that they were the smartest people in the room, because they had figured out the rules of the ed tech game.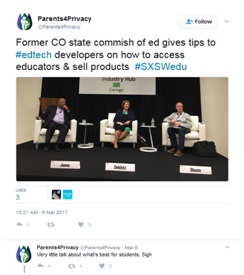 While school board members, administrators, teachers, students and parents fight on the front lines against Common Core, high-stakes testing and data collection, we leave behind us an unattended treasure chest full of billions of taxpayer dollars just waiting to be plundered. The message at SXSWedu is loud and clear:  To win the game, hurry up and get your fair share before the research, evidence and privacy laws catch up to us!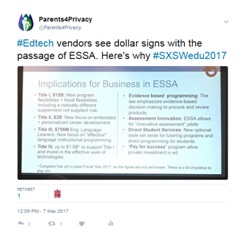 Never was that more clear than when I attended a session called, "Insights into the next generation of EdTech Unicorns" hosted by the co-founders of EdTechXGlobal. A "unicorn" is a start-up company worth $1B or more and the co-founders, who looked like young clones of Austin Powers' nemesis Dr. Evil, gave quite a show. They predicted edtech will produce the next unicorn because, as they claimed, the global education market is now worth $5.2 trillion (far more than the global gaming market worth only $91 billion), and proclaimed that "Digital education is the oil of [the] knowledge economy."  You could just feel the excitement in the room.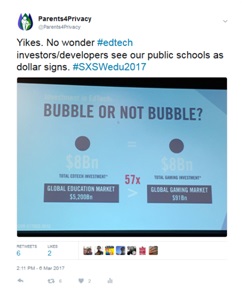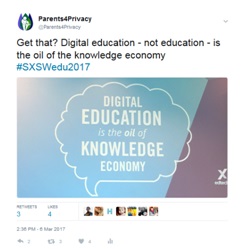 But there were also some bright moments last week.  After my very first session, a young woman sitting behind me struck up a conversation. She had just returned from six years abroad and took a job with a predictive analytics firm where she, along with others in her company, were stunned to learn the privacy laws protecting students in the U.S. were so porous as to be utterly useless. After explaining to me the limited amount of de-identified data her firm needs to identify a specific individual (e.g. only 2-3 pieces of information like a zip code and birth date), she handed me her card; she wanted to learn more about student privacy and help parents any way she can.
My second favorite moment came at a packed Starbucks on Wednesday afternoon. Sitting only inches away from the table next to me, three people — one from the Chan-Zuckerberg Initiative (CZI) — were speaking typical SXSWedutechbabble: "virtual schools" this and "personalized learning" that. I tried not to eavesdrop but I couldn't help but overhear the person from CZI say, "2013 was all about inBloom." Honestly, this was the first time I had heard that word uttered the entire conference. Just four years after inBloom's rise and fall, no one speaks its name anymore, maybe out of fear that their grandiose projects may  suffer the same fate.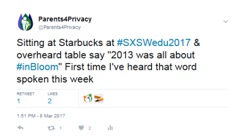 Overall, I'm thankful I was able to experience in person this conference that until now I've only read about. Now that we've opened the door a crack, maybe next year we can push it open a little wider. It sure would be fun to crash the party with a big group of grassroots privacy advocates. That would really keep Austin weird!